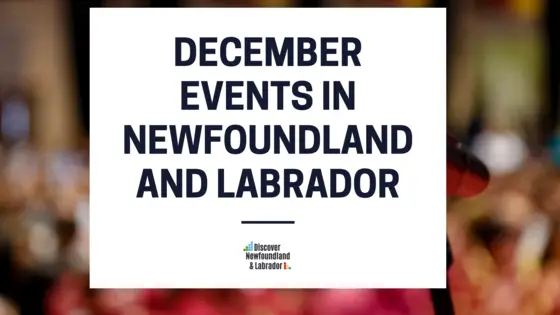 December Events in Newfoundland and Labrador
As the winter season blankets Newfoundland and Labrador in a shimmering coat of snow, December ushers in a sense of wonder and festivity. This month brings an enchanting array of events that capture the spirit of the season. From holiday markets to cultural celebrations, this is the perfect time to gather with loved ones and create cherished memories at these unmissable December events!
St. John's Christmas Parade Date:
Early December (Date may vary) Location: St. John's Kicking off the holiday season in grand style, the St. John's Christmas Parade is a beloved tradition that delights attendees of all ages. Watch as festive floats, marching bands, and Santa Claus himself make their way through the city streets, spreading joy and holiday cheer. The colorful displays and the sound of carolers create a magical atmosphere that is sure to fill your heart with the holiday spirit.
Mummers Festival: A Quirky Celebration of Tradition
The Mummers Festival is all about embracing mummering, a centuries-old tradition that brings people together in a fun and unique way. The festival offers workshops, forums with mummer experts, and educational events. Participants can craft jaw-snapping hobby horses and create their own homemade ugly sticks, immersing themselves in the heart of mummering.
The Grand Parade
The Mummers Parade is the pinnacle of the festival. On this day, the streets are filled with people of all ages, dressed in elaborate mummer disguises. Everyone becomes a mummer, indulging in whimsical and surprising behavior. It's a day where the ordinary becomes extraordinary, and the community bonds like never before.
Mummering is not just about costumes; it's about building strong social connections. The Mummers Festival ensures that this 300-year-old tradition remains a vibrant part of Newfoundland and Labrador's culture, keeping the spirit of community and tradition alive during the winter season. Don't miss the chance to join the ranks of mummers and experience this unique cultural celebration when you visit the province during the festive season.
Event Details:
Dates: November 25 to December 9th
Website: Mummers Festival
Additional Events or Highlights:
The Nutcracker Ballet: Enjoy this classic holiday performance at various locations.
New Year's Eve Celebrations: Ring in the New Year with fireworks and festivities across the province.
Conclusion: December in Newfoundland and Labrador is a time of enchantment, filled with holiday traditions and celebrations. Whether you're attending parades, exploring Christmas markets, or immersing yourself in the province's rich history, there are plenty of opportunities to embrace the festive spirit and create lasting memories. Plan your itinerary, gather your loved ones, and enjoy the enchanting December events that Newfoundland and Labrador has to offer.
Is there anything we missed or any specific event you would like us to add to the post? Please email editor@discovernewfoundlandandlabrador.com
We strive to provide the most comprehensive and up-to-date information to our readers, so please feel free to share your suggestions, recommendations, or any additional events that you believe deserve a spot on this list.
We value your input and want to ensure that our readers have access to the most comprehensive and accurate information possible.
Let us know how we can enhance this guide and make it an even better resource for all those seeking to explore the captivating events of December in Newfoundland and Labrador.